Time spent at DCU has a special place in the hearts of many students, staff and alumni. Through a memorial scholarship, many of our supporters have chosen to honour the memory of their loved one and to recognise the important role the University played in their loved one's life by offering the same opportunities to future generations of DCU students.
In this piece, some of our 2017/18 memorial scholarship recipients reflect on what this scholarship support means to them. The talent and dedication of our scholarship recipients is impressive and we hope you will agree a fitting way to remember individuals who shone brightly in their own lives.
Jordan Morrissey- Gerard McDonnell Memorial Scholarship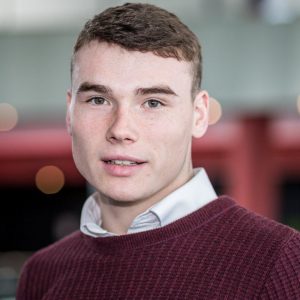 Jordan Morrissey is a first year Engineering student at DCU. A keen problem solver, he hopes to one day work in the field of Biomedical Engineering to improve people's lives. In the meantime, he is kept very busy playing Gaelic football for his native Carlow's intercounty team, DCU Freshers and his club Éire Óg.
"This year I became the first in my family to attend university. I always liked school and did my best and although my parents didn't put pressure on me, I knew they really wanted me to go to college.
As a Gaelic footballer, DCU has always been the university that I wanted to attend due to its prestigious reputation in both academic and sporting fields. I felt that I could grow greatly as an athlete and as a student in the professional environment that DCU provides. My strengths lie in practical learning and problem solving, these two attributes combined with my deep interest in biology led me to choose Engineering as my area of study.
I feel this has been the correct choice as I am thoroughly enjoying my course so far. Further down the line I hope to explore the area of Biomedical Engineering, this greatly interests me as I can combine all my favourite areas of learning in one course. This fast-growing industry is changing the lives of people across the world for the better and it's a field that I would like to contribute to in the future.
I am very grateful for my scholarship support which has taken a huge burden off my parents and makes me feel more at ease in college knowing that I have been able to purchase the necessary resources for my study, including a laptop and component kit for my electronics module.
Receiving the scholarship also helps me to focus on my development as an athlete and enables me to train and play matches with DCU's Freshers Team, my club Éire Óg and Carlow's intercounty football team."
Áine Murphy- Stephen Moran Memorial Scholarship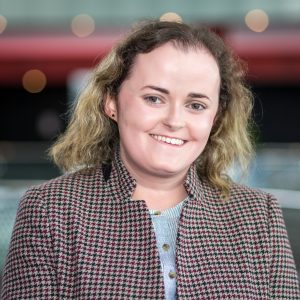 Áine Murphy from Carrickmacross Co. Monaghan is in her first year of studying Business. Áine became interested in Business during her studies in secondary school and chose the Bachelor of Business because she wanted to get a taste of as many subjects as possible. Áine is involved with numerous societies on campus including Enactus, ESoc, Badminton and the Scoliosis Society.
"Moving from Monaghan to Dublin was a really big change for me but it was definitely meant to be. Growing up in Carrickmacross, I really enjoyed school and was always encouraged to strive to achieve the good results that would allow me to continue on to third level education.
Unfortunately my mother passed away when I was nine, but I know that she would have encouraged me to always try my best. My Dad is extremely supportive as well and has always been very forward thinking.
I really loved studying business in school and therefore thought it would be the right fit for me in college. I attended multiple open days but soon realised that DCU was the right fit for me. The range of courses was brilliant and I realised very quickly that there is a great atmosphere on campus. I chose the general Business degree because I wanted to get a taste of everything and then decide where to go from there. I am a member of numerous societies on campus as well which has given me the opportunity to meet even more people outside of my course.
The DCU Access Service and my scholarship have been such a great support for me both financially and for helping me to settle in. It would have been extremely difficult for myself and my family to afford the fees without the financial support I have received through my scholarship. The Access orientation was also a great introduction for me and gave me a great idea of what to expect from college life, particularly when I was making a big move from Monaghan to Dublin."
Arun Decano- Orla Benson Memorial Scholarship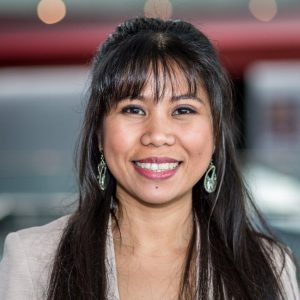 Arun grew up in the Philippines and is currently a PhD candidate in the School of Biotechnology researching immunology and genetics.  Her research focuses on discovering new infection control approaches to combat the increasing global rates of infectious diseases. She plans on using the funding to enable her to work with researchers in the Pathogen Genomics Group at the Wellcome Trust Sanger Institute in the UK to further her research.
"Growing up in the Philippines, education was always extremely important to my family. My mother is a music teacher and my father is in the military.
I have been interested in immunology and genetics for a number of years. My research focuses on discovering new infection control approaches to combat the increasing global rates of infectious diseases. This growth has been driven by antibiotic resistance which is becoming a major issue of our time. The aim of my research is to develop diagnostic tools and screening measures that can help predict emerging resistant strains by using advanced data analysis tools. This will help us to discover when and where the resistance genes came from and will also help to anticipate the next pandemic strain so we can know how to intervene. This will massively help both hospitals and nursing homes to tackle hygiene challenges and prevent the spread of infectious disease.
I have really been enjoying my time at DCU. Everyone has been so welcoming and there is a great Biotechnology community here that I was instantly welcomed into. My supervisor has also been extremely supportive and has greatly aided me in my research and introduced me to so many contacts.
I plan on using the funding to enable me to work with researchers in the Pathogen Genomics Group at the Wellcome Trust Sanger Institute in the UK. I believe that this experience will help me to delve deeper into my research and hopefully garner helpful results."
The full list of 2017/2018 DCU Memorial Scholarships:
The Orla Benson Memorial Scholarship Arun Decano – PhD candidate, School of Biotechnology
The Frank Durkan Memorial Scholarship Lisa Lavelle – Bachelor of Education
The Veronica Guerin Memorial Scholarship Conor Molumby – MA in Journalism (2016/17 recipient)
The Charles J Haughey Memorial Scholarships: Aoife Farrell – BA in Economics, Politics and Law, Sean Trimble – BS in Business Studies, Jessica Kidd – Master's in Law (LLM)
The Dr Tim Mahony Memorial Scholarship Mario Lazcano – BA in Contemporary Jazz and Music Performance
The Aidan McDonnell Memorial Scholarship Leah Lynn – Common Entry into Science
The Ger McDonnell Memorial Scholarship Jordan Morrissey – B.Eng in Common Entry into Engineering
The Volkswagen Group Ireland – Stephen Moran Memorial Scholarship Aine Murphy – BS in Business Studies
The Paddy Moriarty Memorial Scholarship Christine Andreeva – PhD candidate, School of Law and Government
The TJ O'Driscoll Memorial Scholarship Farhat Omar – BSc in Aviation Management
The Nicola Radford Memorial Scholarship Danielle Fitzpatrick – BA in Communication Studies
The John Thompson Memorial Scholarship Daniel Simicic – MSc in Digital Marketing
The Paddy J Wright Memorial Scholarship: Cassie Hunt – Bachelor of Arts, Leo Ward – Bachelor of Religious Education and English, Chloe Neville – Bachelor of Religious Education and History